Today, I will talk about the optimization of Shopify site.
I think everyone should pay attention to the design and decoration of Shopify. However, the decoration of Shopify stores is different from the amount of natural traffic they attract.
Shopify stores need to get more traffic and obtain it from different ways, such as facebook ads, influencer marketing, and search engine rankings……
Well, today we will talk about how to improve the search engine results page ranking of shopify store through site optimization.
1. Optimize Shopify Site Structure
If you are familiar with SEO, you are very clear about a good site structure, is very conducive to search engine catch. And in terms of search rankings, it's easy to show up in full-site searches, like when I search Shopify: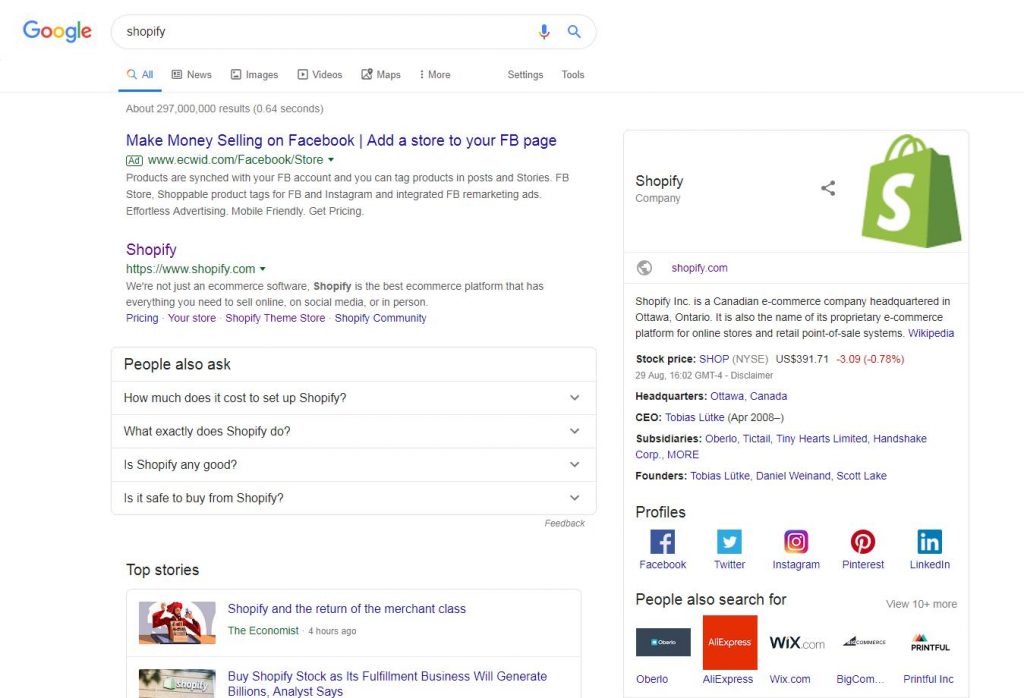 If your customers can easily find what they want in your store, they will stay even longer. The longer the site stays, the better the SRP ranking.
Therefore, it is best not to make the structure of your site too complicated. A simpler structure, but also easier for search engines to capture our information, improve the ranking. In general, the simple structure is shown below: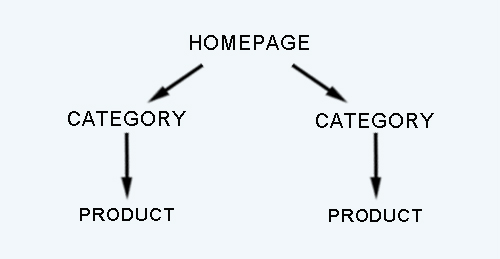 From the picture above, you can see that the product page to the home page is only a two-step process, the structure is very simple and clear.
And, of course, if you have a lot of products, you can have a little more detail. Such as: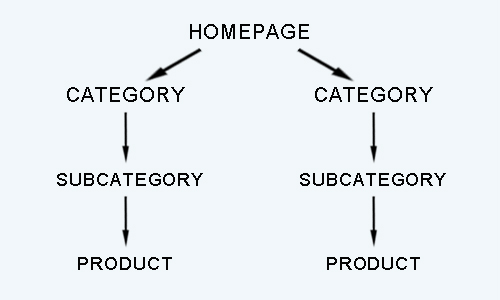 All in all, one thing to keep in mind is that our site is first and foremost built for users, so give priority to the user experience.
Of course, in addition to product categories and product pages, a website should also have "about us" page and "contact us" page. These two pages are mainly to users and search engines to show the credibility of our site, so these two pages must not miss.
Finally, it's a good idea to put another search bar on your site.
The search bar doesn't directly affect SRP rankings, but it does make it easier for users to find the product they want. That increases their likelihood of buying, so it's a direct way to increase conversion rates.

2. Optimize Keywords
You can use Google keyword Planner: https://ads.google.com/home/tools/keyword-planner/
First of all, we investigate a keyword in order to see the search volume of this keyword, so that we can know the search volume and heat of this keyword is high or not.
When it comes to search volume, you should mainly look at the approximate monthly search volume of this keyword.
In addition to the above mentioned Google keyword research tool, here also recommend another one.
SEO Metriks: https://apps.shopify.com/seometriks
In fact, the most important keywords research is not what tools, but it's all about yourself.
Content keywords
Every page of your site, including product pages, category pages, blog posts, and home pages, can actually be ranked by different keywords. And keyword research can even tell you at the very beginning, what keywords should be your main page.
For example, many of your keywords can be used as key information keywords; Some keywords are not so important, can be used to suggest that people buy.
3. SSL
To use SSL sites, or "https," search engines value SSL.
In addition, many browsers are not very friendly to unencrypted websites, and sometimes give users a warning page when they visit.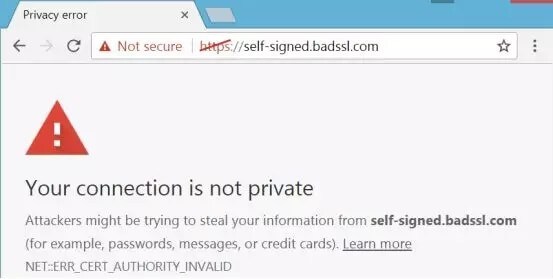 Imagine, if you're shopping online, running into a store with such a warning. Don't you dare buy it?
Therefore, using SSL is a must do, can not guarantee the credibility of the store, then the rest is empty. And shopify setting this is very simple, only needs a few simple steps.
Go to Shopify Dashboard → Sales Channel → Domains
But before you use SSL, I want to make some of my thoughts clear.
SSL for the New Site
If you just applied for a store, that is, not from an old account, but a new account. At this point, you don't even have to think about turning on SSL, and it's a smart thing to do.
Since you're using SSL in the first place, it's a great way to improve your store performance and search engine results.
Convert An Insecure Site to An SSL Site
Be careful if your current shopify store is not encrypted, or if you are switching from another unencrypted site to an SSL shopify site.
Before switching, make sure all your previous links are permanently redirected to the new site.
If you forget to set up a new site, it will cause you to drop your ranking and lose traffic. To do this, we can use 301 request code, which is more complicated, if you don't understand, let the engineer do it directly.
But if your site is shopify, you don't have to worry about it. Since the shopify site generates the 301 redirect automatically when transforming, you do not have to do it manually. So this is a very simple step, nothing more.
4. Optimize the URL
A clean URL, should be short, simple and understandable. For example, your store is selling small animals T-shirt, so your site can be: http://www./animal-tshirt.com
Instead: http://www.animal.com/gy/o542.phy?Ref = 46146544 budsshd
( Just an example )
At present, shopify website is not as messy as the second one, but its automatically generated website is not as concise as our own setting.
Shopify edit web address, with the previous edit page title meta description in a block.
Note: in the edit page url, if the page's current ranking has not come up, is better. However, if the page is now ranked very high, then this time, optimize the url to be careful.
Because if this page ranks very high, that means it has a lot of backlinks. So if you change the url, and forget to redirect, the redirect is largely gone. The consequences are serious.
In addition, changing the website address will affect the social sharing status of this page, because if changing the website address, the number of times this page is shared will be completely wiped out.
Therefore, the best time to optimize your site is at the same time as you create your page or shortly after.
Don't wait until the rankings start showing up to switch sites, which can be even more troublesome.
5. Ensure the Loading Speed
Site loading speed is a very important factor to determine the site ranking, do not think, is the faster loading site ranking higher.
In fact, if we use shopify, we have little control over the loading speed of the website. Because of shopify, we can't choose our own server or build our own theme.
We can only use shopify's server, and the theme is the same.
Although these two are very good, also very convenient for the beginners. The only drawback is that we have no way to determine the loading speed of the theme.
But just because we can't control it doesn't mean we can't do anything.
Use the image compression tool to compress images. Remember to compress all uploaded images.
Tool recommendation:
Tiny Png – https://tinypng.com/
Whether it's external editing or other code, keep it to a minimum
Try to avoid a large number of web fonts typography, even can not directly use, replacing the web security font (web safe fonts) – this font load faster
Shopify pages need to use AMP form
6. Optimize the Image
Search engine algorithms don't just grab text from our sites, they also grab images.
To get them to grab our image information, they had to deal with the content associated with the image – Alt information and the name of the image. Accordingly, we must also make sure that these two messages are in accordance with SEO optimization criteria.
Image optimization is a very important part of site SEO. Here is a brief introduction, more details can be click to see this article dedicated to the introduction of image optimization.
Add Alt Text
Adding Alt information to images at shopify is also easy.
Steps: product→all products→image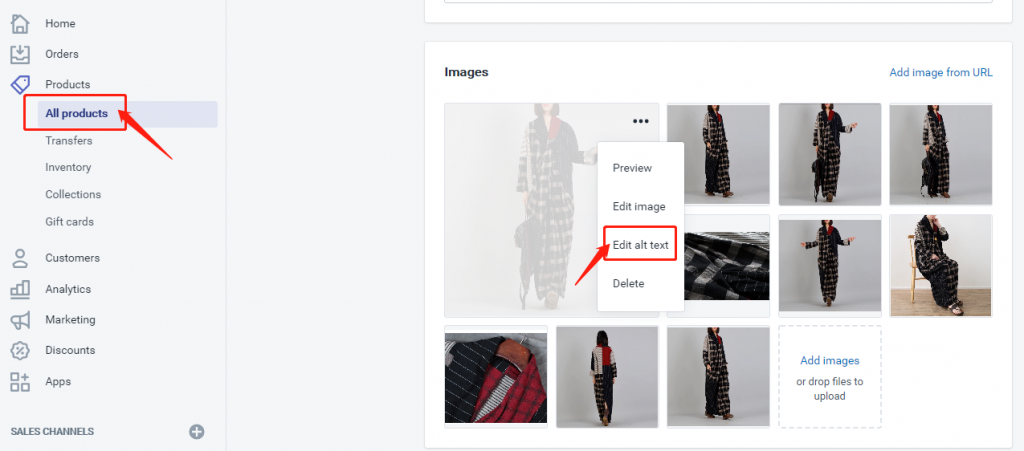 Then go to the product that you want to add the image to, move the mouse over the image, and select "edit alt text"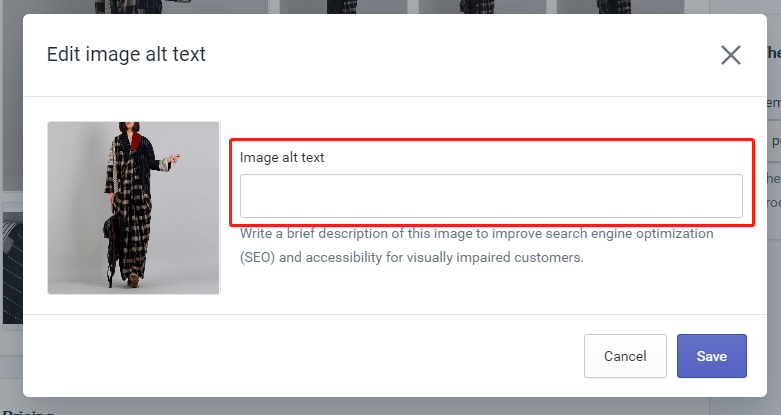 Edit Image File Name
Shopify image file names aren't as easy to edit as the previous ones, so it's best to edit the name of the image file before you upload it.
That said, the main thing we optimized was the name of the image file, and it didn't have to be too long.
For example, if your product is a panda face T-shirt, the name of your picture should be "panda-T-shirt".
Instead of "img46126hgu.563.jpg", could you tell me the content of this picture according to the name?
If you've uploaded a lot of images before, but haven't changed the name of the image, there's nothing you can do about it. Just delete those images and re-upload the optimized ones.
But what if you've uploaded thousands of images before? It's a lot of work. So it's time to weigh the benefits of optimizing your images against whether it's worth the time and effort it takes to do all those tedious tasks.
If there are too many images, you can selectively optimize them. Optimize pictures of products that are important to your store. Some of the other unimportant, not necessary does not matter. I just don't see the need to waste that time.
7. Optimize Site Title
Page optimization, a very important factor is the page title. Because search engine crawlers, when they crawl and categorize information, they rank the page title as a key piece of information.
And on the search results page, your title is the majority of the search results.
Therefore, the title of the most important point, is that your title must not be ambiguous. And be sure to start with your first keyword. In other words, the keyword you most want to rank should be in front of the headline.
For example, if you're a local Los Angeles store that sells animal head t-shirts, your best keyword order is "animal head T-shirts in Los Angeles," not the more general "animal head T-shirts."
Of course, your keywords are certainly not so casually as I can decide, no matter when. As long as it involves keywords, you must do keyword research.
Shopify's page title mainly has two kinds, one is the main page title, the other is the title of other different pages.
Optimize Home Page Title
Edit homepage title is also very simple, when you edit the title, you can also incidentally edit the meta description.
First of all, Sales Channels → Online Store → Preferences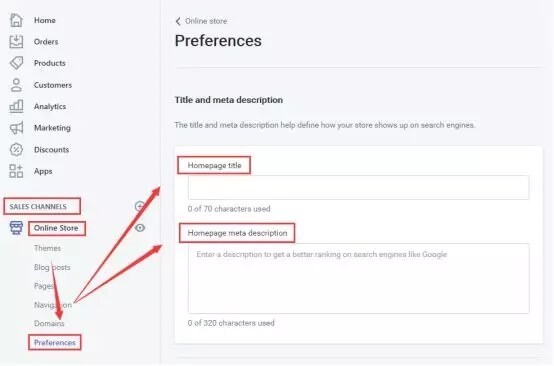 Optimize Meta Description
Meta description is simply summarized as the content of a web page, usually in search engine results page, the text under the title is a meta description.

Although Google official has said that this meta-description is not a factor in the ranking of websites. But a well-written meta-description can get more people to click on your site, click-through rate can affect the ranking of a website actually. So all in all, meta-descriptions are important.
Speaking of meta-descriptions, there should be several principles:
Keep it simple
Keep it accurate
Include the keywords you want to rank
Edit other page titles
When you edit the title of other pages, it's almost the same as when you edit the title of your home page.
Steps: sales channels → online store → pages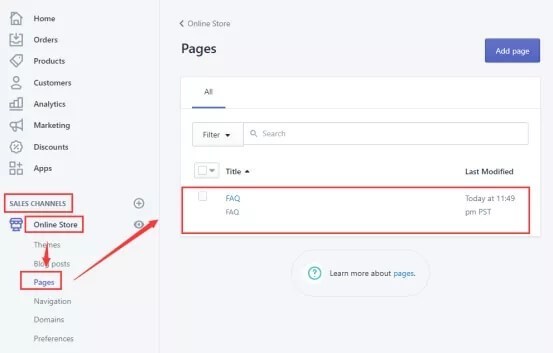 Select the page you want to edit, and select edit selected items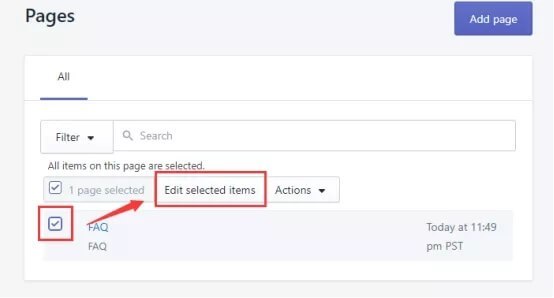 Click the "add fields" button, where you can also edit the title, meta description, and URL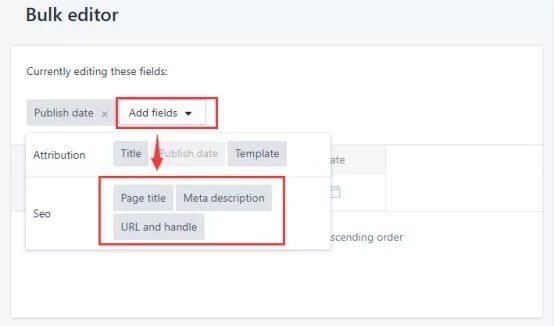 8. Use Suitable Headings
When many people use shopify, it is easy to overlook the problem of website title. Some people even sometimes use bold text to spread out some content. This is actually very undesirable.
There are several problems:
First, from an aesthetic point of view, it's actually pretty ugly.
Second, users who are not used to screen reading may have a harder time understanding your content.
Third, it makes it harder for search engines to process and understand the content.
Therefore, the title must pay attention to, to match with your text information, you should consider this issue before uploading text.
It is also simple to add Shopify heading and subheading.
Steps: sales channel → online store → pages → add page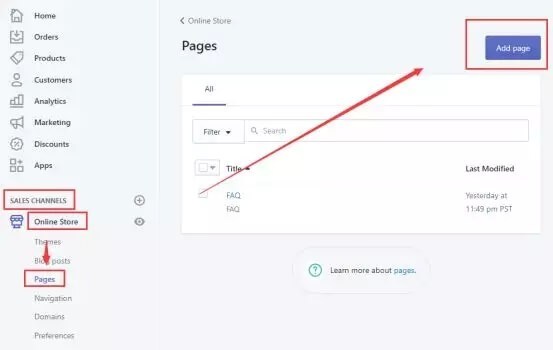 Once the Title is complete, enter a paragraph.
If your title is the first paragraph, just click and choose the type of title you want.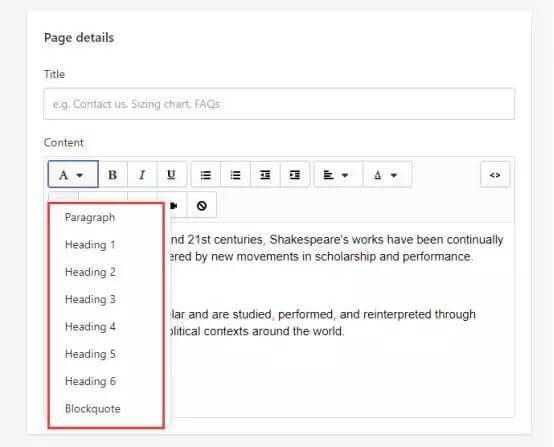 But if you want the title to be in the middle of the content, you can make it bold first and then choose the title type. Note that you can only select one paragraph at a time, so the headings you want are separated into separate paragraphs.
What is more, H1 titles are the most important of these, since search engines use this, along with title, as a major factor in site ranking. So, H1 headings must include your first keyword.
9. Use Adaptive Design
Adaptive design means that your website should display properly on computers, paids, mobile phones and other devices.
This kind of adaptive design can greatly improve the user experience and increase the time users stay on the website. And Google uses time spent on a site as a factor in its ranking.
So make sure your site is adaptive, especially on the mobile. Because now a lot of online shopping, the majority of people are using smart phones.
10. Apps to Improve Store SRP Ranking
In fact, the site optimization can use a lot of good apps, I will give you a little introduction to a few.
Plug in SEO: https://apps.shopify.com/plug-in-seo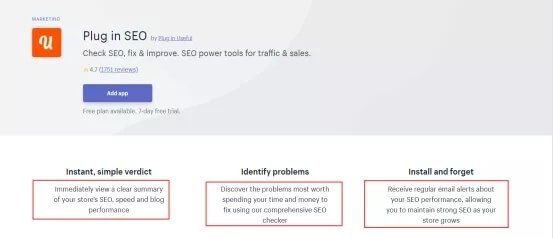 This tool helps us check for SEO issues, including titles, meta description, page load speed, content, and structure issues.
Besides, after installation, it works fully automatically, sending us regular emails to remind us and keeping our store in the optimal state at all times.
There's a free version and a 7-day trial.
Smart SEO: https://apps.shopify.com/smart-seo

The app automatically generates meta tags for products, product categories, blogs, and article pages. And it can also transform our store information according to the needs of search engines, making it easier for search engines to capture our store information.

This reduces the time it takes to optimize your site and provides search engines with more accurate information to improve your site rankings.
$4.99 / month, a 7-day trial.
Smart Image Optimizer: https://apps.shopify.com/seo-image-optimizer

The app mainly optimizes the size of images, ensuring that they don't take up too much memory and space, slowing down the site.
So if you don't want to manually optimize your images, you can use this tool to automatically optimize them. It's free.
Above.