Today, let's continue to talk about how to decorate your Shopify store, from the settings of gift cards, discount codes, social media, blogs, pop-ups, emails, customer service and so on.
Gift Card
For customers who don't know what product to buy, a gift card or discount card is a good idea. By assigning a specific amount to each card, the cumulative amount can be used to exchange for the specified product.
Sellers can buy their own gift card while selling other products, and customers who have just purchased a card from your store can also receive a gift card. Gift card are a great way to boost sales.
How to do it: go to the product on the sidebar menu > create a gift card, and then click "sell gift cards."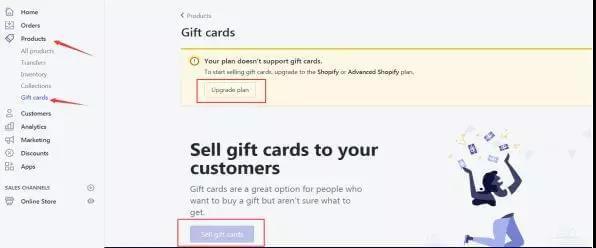 But you need a higher version of Shopify plan to use this feature.
After upgrading, go to this page: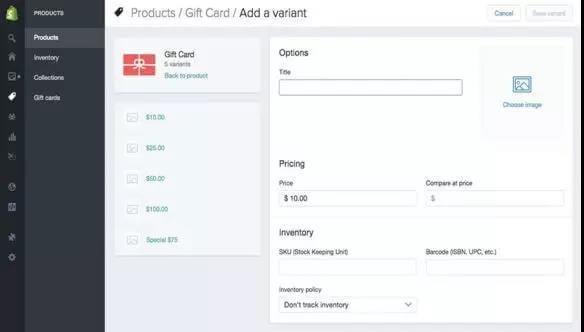 Once you have created the variant, you can save the gift card to the online store area under the "Visibility". Gift cards can also be sent based on customer loyalty.
Discount Codes
Using the discount code, you can purchase the product at a lower price. By giving visitors discount codes, you can turn visitors into your customers and increase sales.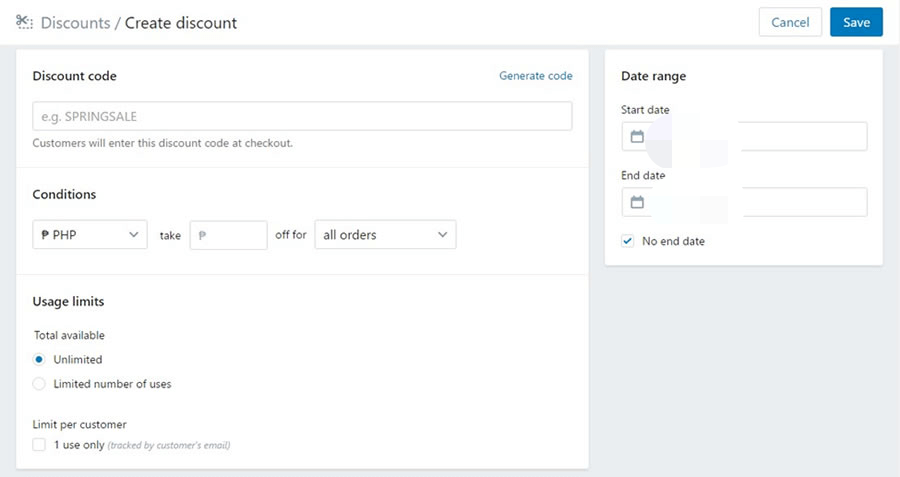 Go to the Discounts on the side menu and click "add discounts." Fill in the details. Also set editing terms and usage limits to make sure you don't overuse discount codes.
After creating the discount code, it must be promoted in the store before it can be used in the transaction.
How about the promotion discount code?
Promote on social media: share discount codes on Facebook, Twitter and other social media.
Blog post: publish a blog post detailing the product's discount code and how to use it. Here's a tip: instead of sharing code directly on a blog, share the blog on social media and send a discount code on social media to increase traffic.
Create pop-ups: pop-up is a great way to create email lists and direct web traffic to specific pages. Pop-ups can be dynamically displayed on every page of your store.
Send email to subscribers: if you only want to send discount codes to people who sign up for your email, send these discount codes through the email marketing platform. Use discount codes to encourage people to sign up.
While discount codes can help drive sales and increase store revenue, don't always offer them. Giving away discount codes indiscriminately will lose loyal customers and lead to declining sales.
Set Customer Service Options
Although a lot of shopify store information has been set up before, customers still ask a lot of questions in the operation of the store.
So you need to have a customer service function that can solve customer problems in a timely manner.
You can go to the Shopify APP store and choose the one fits you.
Start The Shop
Until now, your store has been modified, but it is still not publicly accessible because the store is password protected and is still in the building stage until the target audience can see it.
You need to remove the password protection before you can operate. After completing the above steps, you can publish the site and make it available to the public.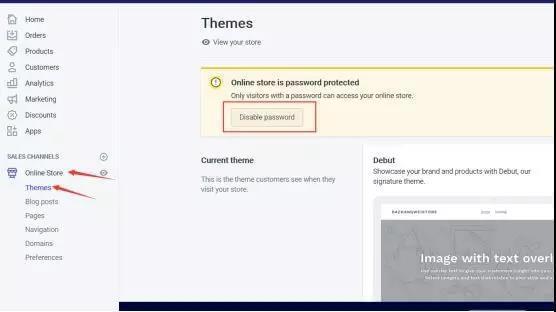 After you click the button, you go to the Preferences page section. Simply uncheck the password save box on this page and click save.
After completing all the above steps, you can start operating the store.