Now you knew what is dropshipping, so, the choice of products is very important, can not say just find a product to start selling, choosing the right product will lead to good profits and increase revenue.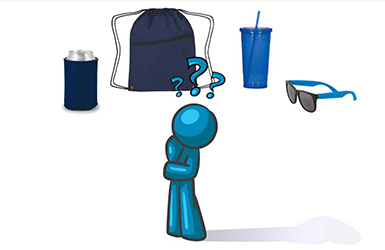 FEW SUGGESTIONS
About the selection, a few suggestions you can refer to:
The price range is better in $1 to $20. Suppliers may also charge an intermediate fee for such a low-priced product. You can, of course, increase your profits by raising your prices on a wholesale basis. You can also cut unnecessary costs and increase profits.
Target high-end customers. Targeting high-end customers requires you to look not only at the purchasing power of your customers, but also at their disposable income.
Choose non-branded products. Because the product market with a strong brand is almost monopolized by this brand, it is very difficult to penetrate, to make more money, you have to look for non-brand products, so your chances of winning will be greater.
TOOLS TO FIND NICHE PRODUCTS
This is a basic overview of choosing niche products, and here are some tools to help you find the right ones.
Google Keyword Planner
As you know, searching on Google can get a lot of traffic and conversion times for sites that rank high in keyword search.
Research your keywords as you search, and the Google Keyword Planner tool will be able to use your Keyword data to identify niche products.
It is mainly reflected in two aspects:
Search for keywords: get useful keyword tips to better reach users who are interested in your product or service.
Get search volume and forecast data: look at search volume of keywords and other historical indicators, as well as forecast data of the future effect of keywords.
Go to the site first, and you'll get a general overview of your keyword searches. If you rank your chosen keywords, you increase your chances of identifying customers.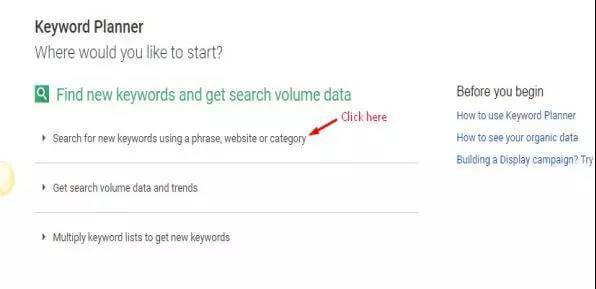 To use this tool, you should have a Google account and sign up for it on the main page first. After registering, click the "use words, website, category search new keywords" button. You can then enter the product you want to sell.
For example: I want to find a retailer, and then I type "watch" into the product or service bar to limit the search by identifying the category and location of the search.
Download the keyword prompt list to provide relevant keywords for your initial search. I will use the keywords "wrist watch for men" to focus on the search results.
SEM Rush
SEM Rush, is one of the most comprehensive ability of SEO tools, it has keywords ranking tracking, keyword research, long tail word research, backlink research, PPC advertising research, traffic research, industry hot text search and other functions.
SEM Rush is not only rich in functions, but each function is the top three existence in the world, which is really powerful.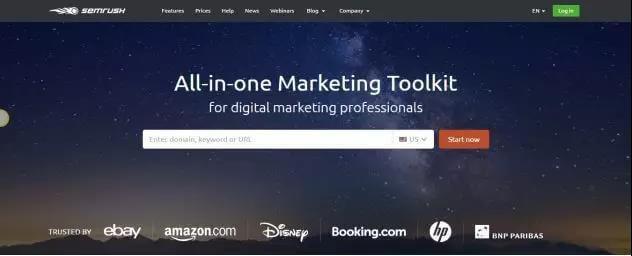 SEM Rush is a paid tool that extracts a limited number of keywords from keyword difficulty.

After registered login account, input keywords wrist watch for men, point search can view the information in the search box.

When the page loads, scroll down and click view the full report in the phrase match keyword section.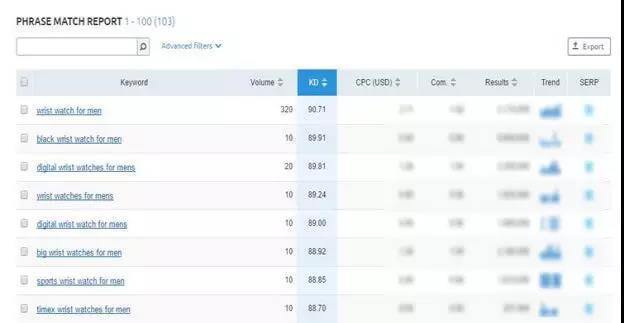 The report page displays the associated keywords and different parameters. The first column is associated keywords, the second column is the number of each keyword, and the third column is KD. The lower the density of the keyword (KD), the easier it is to classify the keyword.
KD is arranged from high to low, that is, difficulty of classification from difficult to easy. "Wrist watch for men" KD was 90.71, ranked first, the classification of the most difficult.
So let's think about other words with lower KD density. Click on KD to arrange them from easy to hard.
Seen from the results, the keyword "antiquity wrist watches for men" difficulty is 67.03, so its search results to be more easy to classify.
So let's narrow your watch in the old watch, by adjusting the data. Search for Spocket and Aliexpress.
Spocket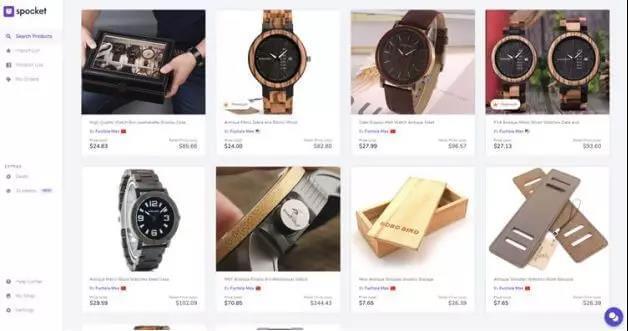 Several antique watches were found on sale at Spocket.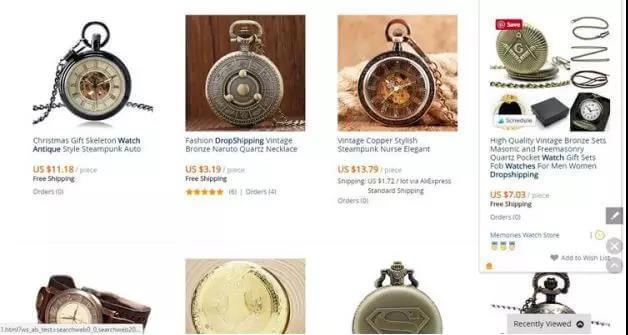 Type "dropshipping antique watches" on the Aliexpress search box. As you can see, the vintage watches on Aliexpress range in price from $1 to $20.
While most of the watches on Aliexpress are pocket watches, there are some. So when we optimized the keyword "antiquarian men's wristwatches," which was relatively easy to rate, this product was perfect for sale in our store.
Because we want to make sure that the store ranks high, we need to pay more attention to the KD density when we look at the search results, besides the quantity, the lower KD density keywords will be easier to rank.
So, in the next article, we'll look at "CHOOSE A SUPPLIER".